Boat Rentals In Southeast Wisconsin
Choice boats for rent in southern and eastern Wisconsin at rental centers, boat dealers, outdoor markets, and boat rental agent locations. Each offering a unique variety of watercraft for rent. Find jet skis, pontoon boats, fishing boats, family boats, canoes and kayaks. Some rental resources may also offer deck, ski and speed boat rentals.
Southeast WI boat rentals
Listed below find boat rental dealers and other resources offering boats for rent for use on Lake Butte des Morts, Lake Koshkonong, Lake Pepin, Lake Poygan, Lake Winnebago, Fox River, Rock River and other waterways in Wisconsin. Rental locations are listed nearby cities and attractions. Cities listed include Madison, Milwaukee, Oshkosh, Appleton and Brookfield. Contact these boat rental services to see if they have the ideal boat for you to rent.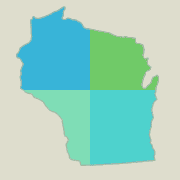 Southeast Resources
Appleton
Muddywater Boats Dba Sasi
1236 W Wisconsin Ave
Appleton, WI 54914
920 731-4841
Appleton Boat Repair A T V Cabs LLC
3130 West Wisconsin Avenue # B
Appleton, WI 54914
920 731-2555
Brookfield
Madison
Mendota Boat Works
5320 Blue Bill Park Dr
Madison, WI 53704
608 245-9041
Brightwork Boat Works
5380 Farmco Dr
Madison, WI 53704
608 244-8200
Storm Hawk Boats
5380 Farmco Dr
Madison, WI 53704
608 310-8118
Boat Doctor LLC
4702 Ellestad Dr
Madison, WI 53716
608 222-3600
Skipper Bud's of Madison
5442 County Road M
Madison, WI 53704
608 246-2628
Milwaukee
Skipper Bud's
1919 South Marina Drive
Milwaukee, WI 53207
414 482-0369
Harborside Marine Boat Sales
700 South Water Street
Milwaukee, WI 53204
414 273-2628
Oshkosh
Skipper Bud's Marina
1351 Egg Harbor Lane
Oshkosh, WI 54904
920 231-3200
Scott's Boat Rental
501 South Main Street
Oshkosh, WI 54902
920 235-7474
Lake Butte des Morts
Lake Koshkonong
Lake Pepin
Lake Poygan
Lake Winnebago
Fox River
Rock River
Big Foot Beach State Park
Lakeshore State Park
Mirror Lake State Park
Southeast WI boat rental
Locate boat rental dealers and other boat rental locations within or nearby cities and attractions in eastern and southern Wisconsin.
If you are looking for a specific type boat for rent, chances are one of these dealers can assist you. Boats offered for rent typically include canoes, family boats, pontoon boats, fishing boats, inflatables, jon boats, ski boats, aluminum boats, electric boats, jet skis and others. Some boats offered are confined to specific lakes while others are available for travel to other bodies of water.
Southeast WI boating
To enhance your boat renting experience, click here to locate resources for safety equipment, water toys and boating gear in southeast Wisconsin.
Boat rental safety
Enjoy boating in southeast Wisconsin with a rental boat that is designed to carry the members of your party. Boating safety classes are available in most areas to get you familiar with safe boating procedures.
Boat rentals at marinas
Some marinas may offer boat rentals for use on the lake where the marina is located. Check with Green Lake Marina, Kewaunee Inner Harbor Marina or Manitowoc Marina for information on local boat rental options and recommendations.
Boat rental types
Pontoon boats are ideal for large groups or when taking small children boating. Most often they have a safety railing and a canvas or metal top to reduce the amount of sun rays absorbed by passengers.
Runabouts are great for families and small groups to go sight seeing and cruising the lakes.
Ski boats and speed boats are well suited for of three to five who enjoy water sports such as water skiing and wave boarding.
Aluminum boat rentals are best suited for parties of one to four planning to travel short to mid-range distances.
Bass boats are designed for two passengers and are ideal for most fresh-water fishing, and some inshore fishing.
Lake boat rental...find a boat to rent and take the family and friends out on the water for a day of making memories. Before boating, become familiar with local boating laws and regulations.
Find boat rentals in other states.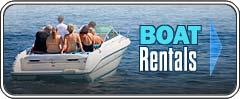 WI Boat Rentals
Northwest WI Boat Rentals
Northeast WI Boat Rentals
Southwest WI Boat Rentals
Southeast WI Boat Rentals
WI Boats & Boating