Connecticut Kayak Rental & Kayaks For Sale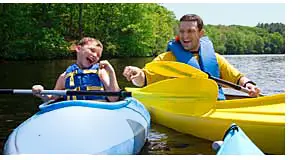 Kayaks provide a unique way of enjoying the lakes and waterways in Connecticut. On calm waters, kayaks provide a serene, peaceful connection to the outdoors. In fast-moving rivers kayaks can be an exciting trip through whitewater rapids. A kayak is a one or two-person boat which is propelled by paddling or drifting with the current. You can explore Connecticut shallow waterways like creeks, streams, and narrow rivers or go kayaking on local lakes.
Some of the lakes in CT available for kayaking include Connecticut include Bantam Lake, Barkhamsted Lake, Colebrook Impoundment, Highland Lake, Nepaug Reservoir, Bolton Lakes, Mashapaug Pond, Quaddick Reservoir, Shenipsit Lake, West Thompson Lake, Easton Reservoir, Lake Candlewood, Lake Lillinonah, Lake Zoar, Saugatuck Reservoir, Gardner Lake, Hopeville Pond, Konomoc Lake , Pachaug Pond, Rogers Lake and many others in Connecticut.
Kayak rental in Connecticut is quite popular for family vacations, fishing and other outdoor water activities. Kayak rentals are available from boat dealers, boat rental centers and outlets also offering Inflatable boats and canoes.
We list Connecticut boat dealers and other local boating information by city for your convenience. We include major cities like Norwich, Mystic, Middletown, Griswold, East Hampton, Woodbridge, Waterbury, New Milford, New Haven, Danbury, Thompson, Manchester, Lebanon, Eastford, Ashford, New Preston, Litchfield, Hartford, Cornwall Bridge and Barkhamsted. Contact local boat dealers and fishing boat dealers for kayak rental information.
If you want to rent a kayak in Connecticut, do a bit of research ahead of time. It can often save a great deal of time and make the rental process more enjoyable.
Safe kayaking and insurance in Connecticut
When renting any type boat be sure to check with your insurance agent to determine if your policy includes coverage while kayaking. If not, it is a good idea to seek out boating insurance coverage through your agent or through the kayak rental facility.
Boat and kayak rentals by state.